The great work the Rotary Club of Wandin are involved in as reported in the Upper Yarra Newspaper December 2018.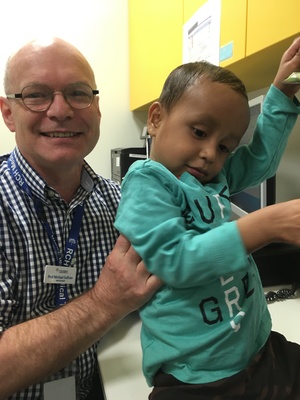 Rotary International has an outstanding history for its charitable work and untiring efforts in the fight to eradicate polio globally. In this part of the world it is the Rotary Oceanic Medical Aid for Children (ROMAC) initiative that is saving the lives of seriously ill children from Papua New Guinea, Solomon Islands, Fiji, Timor Leste, Vanuatu and Vietnam.
Wandin Rotary has given those efforts a boost by raising $13,000 from a fundraising night featuring a hypnotist, although there is no link to the amount raised and the audience's state of consciousness.
Wandin Rotarian, Gavin McIntyre, knows firsthand how vital ROMAC's work is from his efforts as Chair of ROMAC for Rotary District 9810. He said that each surgery comes at a cost around $25,000 and his group aims to raise at least $50,000 annually.
"There are no paid people in ROMAC and every dollar we raise is used to fund treatment costs," he said. "We get a quote from the hospital for their charges and that usually comes out around the $25,000 mark.
"The surgeons provide their expertise pro-bono but that's not possible for the publicly funded hospitals. There are also costs from MRI scans and so on that have to be paid for by ROMAC."
Gaspar, a 3 year old from Timor Leste, developed a tumor and when it did not respond to chemotherapy in Dili he came to Melbourne for surgery. It was done at the Royal Children's Hospital and totally funded by donations to ROMAC.
The expenses involved with bringing patients and their carers to Australia, accommodating them with a host-family, transport and so on are met from a separate fund he said.
"We currently have 97 kids on the waiting list for surgery so raising funds is vital. Without ROMAC's help some of the kids on that list will die," he said.
"If children get sick here then we get them treated in some of the best facilities in the world. Hospitals in countries like Timor or the Pacific Islands just don't have the expensive equipment to do what we can do here.
"Also we have to be able to look after the kids when they are here, the interpreters, the daily trips to hospitals and supporting the host families. Everyone involved is a volunteer, not all are Rotarians, and they find it so rewarding to impact lives this way."
Local community organisation, Cire Services, along with Coldstream Primary School, have become the first organisational members of Wandin Rotary. Cire CEO Gus Seremetis said, "We are honoured to have been invited to join Rotary which is such an enormously respected organisation worldwide.
"We already enjoy a great relationship, having partnered in various projects and we greatly look forward to more collaborations in the future to help improve the lives and opportunities for others in our region and beyond."
In joining Rotary, Cire has launched a postal stamp collection drive to support ROMAC and used postage stamps can be donated at the Cire Yarra Junction office.
Asked for a final word, Gavin McIntyre said, "Every dollar donated is going towards saving a child's life. The more donations we get the more kids we can help."
Here are 2 of the many International programs the Rotary Club of Wandin support.
ROMAC provides surgical treatment for children in Australia and New Zealand from developing countries from our Pacific region in the form of life giving and/or dignity restoring surgery not accessible to them in their home country.
---
Changing futures today
Interplast sends teams of volunteer plastic and reconstructive surgeons, anaesthetists, nurses and allied health professionals to provide life-changing surgery and medical training in 17 countries across the Asia Pacific region.
We do this in partnership with local organisations, including hospitals, universities and local NGOs. Our mission is to 'repair bodies and rebuild lives' and we do this through providing surgical services to those who could not otherwise afford or access these, and by building the capacity of local medical systems through our training and mentoring programs.
Interplast is a fully accredited NGO with the Department of Foreign Affairs and Trade (DFAT), registered by the Australian Charities and Not For Profit Commission and is a signatory to the Australian Council for International Development (ACFID) Code of Conduct.
On Saturday 3rd November 2018 Past President Brian Hodgson travelled to Gagayan De Oro in the Philippines with the Interplast Team. The team will perform life changing surgery on around 60 children with cleft palates. Training for local Doctors is also arranged and all the surgical equipment that is taken over there by the team (fully funded by Wandin Rotary Club), stays at Cagayan De Oro.
Below; Some of our International Committee.
Membership.
Club membership is a mix of men and women from a range of backgrounds of all ages, who enjoy the friendship and Fellowship that our club is known for. Currently the Club has 25 members, 2 Organisational members and 5 Honorary members.
Please browse our web site and if you would like more information or would like to come along to one of our Club meetings, please contact our Secretary at secretary@wandinrotary.org or give our President a call on 0407 819 562.
Meeting Details.
The Rotary Club of Wandin meets every Thursday evening @ 6.00pm for 6.30pm.
The Club meets at the picturesque Mont Delancey Homestead in the Monty's Tea Rooms. For meeting details please refer to the Events Calendar.
PARTNER WITH US
We work with groups and organizations of all sizes to accomplish even more.
JOIN A PROJECT
Change your community with us by volunteering on a local project.
DISCOVER NEW CULTURES
Discover and celebrate diverse perspectives with a global organization.
---
We are always looking for new members. There are a number of ways you can become a member, through joining as an individual, business or corporate membership, sponsoring or volunteering at any of our community projects and events such as the Wandin Rotary Custom Car & Bike Show or the Yarra Valley Beer & Cider Festival.
Becoming a member of the Rotary Club of Wandin allows you to meet new friends, fellowship, business networking and helping the less fortunate in our Community and International.
So if you are interested or want more information please contact the Rotary Club of Wandin.
About Us
Wandin is located in the beautiful Yarra Valley, approximately 48 klm's East of Melbourne, surrounded by Winery's, Restaurants, and is in the "Heart of Cherry Country".
The Rotary Club of Wandin has a rich history of Giving for over 34 years and we are proud of our record of service to the Wandin and surrounding communities and around the World. Any member would be proud to inform you of the projects and services that we have provided over the years.