Current Projects.                            
Changing futures today
Interplast sends teams of volunteer plastic and reconstructive surgeons, anaesthetists, nurses and allied health professionals to provide life-changing surgery and medical training in 17 countries across the Asia Pacific region.
We do this in partnership with local organisations, including hospitals, universities and local NGOs. Our mission is to 'repair bodies and rebuild lives' and we do this through providing surgical services to those who could not otherwise afford or access these, and by building the capacity of local medical systems through our training and mentoring programs.
Interplast is a fully accredited NGO with the Department of Foreign Affairs and Trade (DFAT), registered by the Australian Charities and Not For Profit Commission and is a signatory to the Australian Council for International Development (ACFID) Code of Conduct.
On Saturday 3rd November 2018 Past President Brian Hodgson travelled to Gagayan De Oro in the Philippines with the Interplast Team. The team will perform life changing surgery on around 60 children with cleft palates. Training for local Doctors is also arranged and all the surgical equipment that is taken over there by the team (fully funded by Wandin Rotary Club), stays at Cagayan De Oro.
Current Projects.
ROMAC provides surgical treatment for children in Australia and New Zealand from developing countries from our Pacific region in the form of life giving and/or dignity restoring surgery not accessible to them in their home country.
On Friday 16th November 2018 the Wandin Rotary Club of Wandin are holding a Comedy Hypnotist evening featuring Gerard V. Tickets are still available but are selling quickly. (see flyer) on our front page. Funds raised will go to ROMAC and other Wandin Rotary International aid projects. 
The great work the Rotary Club of Wandin are involved in as reported in the Upper Yarra Newspaper December 2018.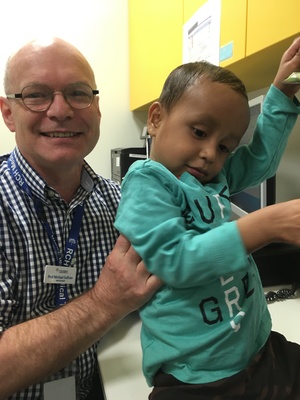 Rotary International has an outstanding history for its charitable work and untiring efforts in the fight to eradicate polio globally. In this part of the world it is the Rotary Oceanic Medical Aid for Children (ROMAC) initiative that is saving the lives of seriously ill children from Papua New Guinea, Solomon Islands, Fiji, Timor Leste, Vanuatu and Vietnam.
Wandin Rotary has given those efforts a boost by raising $13,000 from a fundraising night featuring a hypnotist, although there is no link to the amount raised and the audience's state of consciousness.
Wandin Rotarian, Gavin McIntyre, knows firsthand how vital ROMAC's work is from his efforts as Chair of ROMAC for Rotary District 9810. He said that each surgery comes at a cost around $25,000 and his group aims to raise at least $50,000 annually.
"There are no paid people in ROMAC and every dollar we raise is used to fund treatment costs," he said. "We get a quote from the hospital for their charges and that usually comes out around the $25,000 mark.
"The surgeons provide their expertise pro-bono but that's not possible for the publicly funded hospitals. There are also costs from MRI scans and so on that have to be paid for by ROMAC."
Gaspar, a 3 year old from Timor Leste, developed a tumor and when it did not respond to chemotherapy in Dili he came to Melbourne for surgery. It was done at the Royal Children's Hospital and totally funded by donations to ROMAC.
The expenses involved with bringing patients and their carers to Australia, accommodating them with a host-family, transport and so on are met from a separate fund he said.
"We currently have 97 kids on the waiting list for surgery so raising funds is vital. Without ROMAC's help some of the kids on that list will die," he said.
"If children get sick here then we get them treated in some of the best facilities in the world. Hospitals in countries like Timor or the Pacific Islands just don't have the expensive equipment to do what we can do here.
"Also we have to be able to look after the kids when they are here, the interpreters, the daily trips to hospitals and supporting the host families. Everyone involved is a volunteer, not all are Rotarians, and they find it so rewarding to impact lives this way."
Local community organisation, Cire Services, along with Coldstream Primary School, have become the first organisational members of Wandin Rotary. Cire CEO Gus Seremetis said, "We are honoured to have been invited to join Rotary which is such an enormously respected organisation worldwide.
"We already enjoy a great relationship, having partnered in various projects and we greatly look forward to more collaborations in the future to help improve the lives and opportunities for others in our region and beyond."
In joining Rotary, Cire has launched a postal stamp collection drive to support ROMAC and used postage stamps can be donated at the Cire Yarra Junction office.
Asked for a final word, Gavin McIntyre said, "Every dollar donated is going towards saving a child's life. The more donations we get the more kids we can help."
Committee membership 2018/2019.
International – Jan Griffin (C) Brian Hodgson,Paul Martin,John Sanders,Max McWilliam.
Past Projects
Rotary Club of Wandin Project in Taveuni
June 2014
At the start of the 2013/14 Rotary Year the Rotary Club of Wandin was looking for an International project and learned of the project opportunities available through the efforts of Art Building Childrens Dreams Inc, (ABCD Inc) a body sponsored by the Rotary Club of Templestowe. As a result Wandin selected a project involving the school at Niusawa on the Island of Taveuni, Fiji. Taveuni has a population of around 15,000 of mostly subsistence farmers and the Rotary Club of Taveuni has been a strong sponsor of projects on the Island, including at several schools. Wandin's project would have a host Rotary club with a track record of implementing projects, so the planned project would likely proceed smoothly.
The first phase of the project was to raise funds to sponsor 23 pre-school students for the 2014 calendar year, with the funds to cover tuition, uniforms, books, stationary and other school supplies. Wandin was able to identify individual sponsors for each of these students. The funds were sent to Taveuni via RAWCS.
The second phase of the project was to raise funds to build a preschool on the Niusawa school site which had no pre school facilities; and to send eight Rotarians to Taveuni in June 2014 to help with the construction of the building. Through ABCD, Deakin University was invited to participate as part of their Global Citizenship program. The University and the 11 students who also travelled to Fiji raised about 40% of the required funds, with Wandin raising the balance.
The Taveuni Club has a small team of builders and in May 2014 they installed the concrete slab followed by the frame and roofing so that work by the visiting Rotarians could continue in the event of rain. By the time the Wandin team arrived much of the wall cladding was also tacked into place. The Wandin team included Gavin McIntyre, a professional builder, and set about the task with vigour. Within the twelve days on Taveuni the team completed the construction and most of the final coats of paint. The Deakin team overlapped with the Rotarians for one day and set about completing the painting including murals, landscaping, and spending quality time with the preschool children. The children bonded with the students very readily – a smaller age gap than with the Rotarians present!
The sincere appreciation from the children, parents, and teachers was heart warming, much of it being expressed in song and dance. While they clearly were the primary beneficiaries of the project, each Rotarian benefitted – through bonding as a team; through the sense of accomplishment; with a greater insight of life in a remote part of Fiji and an appreciation of the things we take for granted in Australia. We would strongly recommend undertaking an ABCD Inc project to any Rotary Club looking for an international project.
Past Projects
Calm, strong and consistent response needed in Nepal
By now, most of us in Australia are familiar with the devastation wrought by earthquake in the Nepal area on April 25th. Our television and radio news have repeated many instances of the difficulties faced within this area shocked and flattened by a 9.7 rs quake.
The Rotary Club of Healesville has been associated with this area for a number of years now and our work with the Women's Foundation of Nepal as the basis of one of our original RAWCS projects has brought to our club a deeper understanding of the culture and the difficulties faced by these people and now faced with loss of thousands of lives and loss of shelter and food.
Click on link below to see entire.
Make a donation to the 2015 – 2017 Rotary Club of Wandin Interplast Project.  Click here for copy-able pamphlet.
Umoja Orphanage Project, Kenya