Committee membership 2018/2019
Community – Dennis Hoehne ( C),Ray Barrett, Les Sharp, David Gamble, Garry Byrne, Pat Cullen.
Community Projects.
Sunday 11th November 2018 – Remembrance Day Ceremony @ Wandin War Memorial Cnr Beenak & Hunter Rds Wandin.
10.30am – 11.30am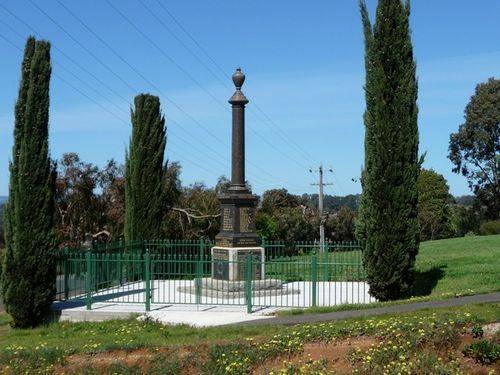 Saturday 26th January 2019 – Australia Day Breakfast @ Wandin North Public Hall  430 Clegg Rd Wandin North. Bookings are essential as this event is sold out each year. Contact our Secretary at secretary@wandinrotary.org.
Thursday 25th April 2019 – Anzac Day Wandin Rotary Club's commemorative service will be held at 8.30am at the Wandin Cenotaph on the corner of Hunter and Beenak roads.
Service recognised at Silvan. (01 April 2016).
A NEW War Memorial in Silvan dedicated to returned servicemen was unveiled in April 2016.
The memorial was the work of the Rotary Club of Wandin who wanted to honour the ex-soldiers who settled in the Silvan area after the Great War. The memorial is located halfway between Monbulk and Wandin, outside the Silvan Primary School.
Two soldiers in particular honoured with this memorial are Sir William Rooke Creswell and Major William Scurry.
Major Scurry was the inventor of a self-loading gun used against the Turkish in the trenches of Gallipoli, and later settled in Silvan as an orchardist.
Considered the father of the Royal Australian Navy, William Creswell retired in 1919 and took up farming in the Silvan area.
The Rotary Club of Wandin raised funds and provided the labour for the building of the memorial that was one and a half years in the making.
The foundations were laid and a large stone along with plaques were added to the site. The memorial was unveiled and dedicated to all the returned servicemen of the area on Sunday 24th April 2016.